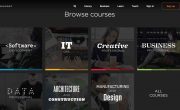 Coupon Details
Pluralsight Free Subscription
Pluralsight
Video
Pluralsight is one of the best online IT training and certification course portal.
Limited Time Free Subscription (100% off)
Using this deal you can get 3 months free subscription on pluralsight.com without any credit card. This offer works only for new pluralsight accounts. If you are a Microsoft user you will get 6 months free subscription from Pluralsight. Maximum utilize the offers within in the limited period.
If this offer is expired, you will get the free trial for 10 days in order to validate whether the quality of the courses are good or not.