Skillshare Review and 3 months Free Discount Coupon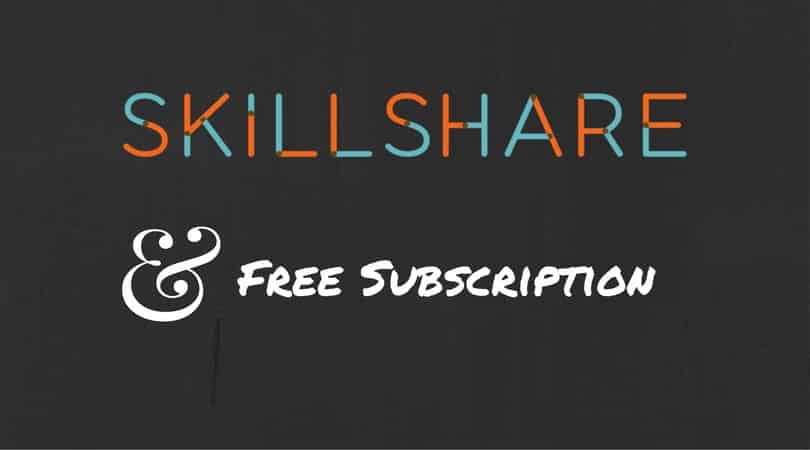 In this skillshare review, I am sharing my thoughts on things that interested me. There is no end to learning; learning is the only way to enlighten ourselves and to make a place in the world. We all need a place to learn what we want to and Skillshare has become a marketplace where you can learn from professional teachers in their interactive online platform.
You can also join the platform of Skillshare as a teacher to teach various arts and to make serious money out of it. Skillshare was launched back in 2011 and within a short span of 5-6 years; it has become a major learning place offering several classes to the students on culinary arts, creative arts, lifestyle, technology, and entrepreneurship.
[alert-announce]Limited Time Offer: Get 3 months Skillshare Premium Subscription For Free[/alert-announce]
Skillshare Review: The perfect platform to hone skills
After a certain age, we consider that we are too old for learning anything new but that is not true; learning is not limited by age and I learned that by enrolling myself in the online classes of Skillshare. This Skillshare review is based upon everything that I learned about Skillshare while taking the online classes.
Skillshare is a website which helps you to hone your own skills in designing, DIY, business, photography, writing and illustration along with online courses in several other areas so that you can start a successful startup career for your own. There is nothing you can do if you want to and Skillshare installs that belief firmly in everyone's mind and provides you with knowledge and polished skills to make your own mark in the world.
[irp posts="1204″ name="Team Treehouse review : Learn coding from experts"]
Skillshare was found by their CEO Michael Karnjanaprakorn in 2011 in New York with the idea to provide the people with a stable platform to hone their skills and to learn new ones in order to become whatever they want to from a designer to a successful blogger to an entrepreneur. It usurped the popularity so rapidly that their funding was raised to $3.1 million and the number of members increased rapidly shortly after their launch.
Skillshare offers their members several free courses but to attend the best classes you need to be a premium member by paying a very little monthly remuneration of $6 to $10 per month. Moreover, you will be able to take as many classes as you want by becoming a premium member.
Open Skillshare from your computer or smartphone and take the best courses from home
With Skillshare, you will easily be able to take the best courses from home without any hassle. Skillshare offers their members with dextrous video tutorials containing lectures from their well-acclaimed teachers which you can watch to hone your own skills. Each video lecture in a course runs for 5 to 10 minutes; you can watch them all together or you can do it at your own pace. Once you are finished watching the videos, you will be done with your course. There are also several courses which require you to submit a project or homework to evaluate what you have learned by taking the course.
[irp posts="3040″ name="Complete Web Developer Course – Learn Web Development From Scratch"]
There are numerous courses that Skillshare provides and the count of the number of courses goes above 4000. So you will never be able to control yourself from scrolling down their course list containing a plethora of interesting courses. The Skillshare website is also optimized to be used in the mobile devices thus you can easily open the link of Skillshare on your smartphone or tablet to get on with your course.
Amazing Skillshare offers
Skillshare is known for their amazing offers amidst the community of online learners. If you do not have an account and you cannot decide on opening one then for getting the solution for your dilemma Skillshare offers you to watch the first video of any course for free even if you do not have an account to help you to take the right decision. Skillshare also offers the premium subscription for the first three months at free of cost to the new members. Thus, if you do not have an account, open one today to get amazing offers.
[alert-warning]Limited Time Offer: Get 3 months Skillshare Premium Subscription For Free[/alert-warning]
You can find more skillshare coupons from here — > Skillshare Coupons
Reasonable Prices
The best thing about Skillshare that makes it most appealing to the people is their reasonable pricing. Skillshare offers three different packages to the premium members from which you will be able to choose one. First, the monthly package for which you will have to pay a monthly remuneration of a small amount of $10.
The monthly payable amount becomes much lesser for their yearly package for which you will have to pay an amount of only $96 per year. They also have a two yearly package which you can avail by paying $144 in every two years thus the monthly payable amount becomes as less as $6.
I hope this Skillshare review will help you to get an overall idea about it. No matter what you want to learn, from blogging to entrepreneurship skills to culinary or creative arts or to become the super mom by learning the best DIY skills, Skillshare offers it all to their members at a very reasonable price. Be what you want to by learning the best skills from Skillshare.