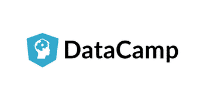 Datacamp
Get up to $60 off for the premium plan November 2022 offer by using DataCamp coupon codes, discounts, and offers. DataCamp is the best place for learning R programming, Python, and Data Science. Get up to 33% off for data science courses by using DataCamp discount coupons, Datacamp coupon codes, and deals for an annual subscription. DataCamp offers free signup for one month. This is the best offer currently running for DataCamp.
DataCamp is a powerful tool for learning data science. New users can get 50% off an annual subscription by using Datacamp promo codes from Crunchadeal. You will receive other free offers that allow unlimited access to the website's content in order to try it out. DataCamp student discount is available for 75% off.
Datacamp Black Friday Deal Is Live Now: Flat 65% off
Get 33% off on the Datacamp annual premium subscription compared to a monthly plan. This offer will not be available always. This offer is valid till 21st June 2021. So don't miss the chance. This ...
more ››
Get started with python for free from Datacamp. With the Datacamp python course, you will the following. learn python fundamentals Statistics Fundamentals with Python Data Visualizati...
more ››
Get 9 free courses while signing up in DataCamp by using DataCamp Coupon codes from Crunchadeal.com. Learn your favorite courses from DataCamp. ...
more ››
This is applicable for the students those who have GitHub Student account. With that account, the students have to subscribe from Datacamp for free access....
more ››
This is for a limited time. Can expire at any time. You have to pay only $13 monthly for an Annual Subscription. Otherwise, you have to pay $15 each month....
more ››
This is a golden chance from DataCamp. All the courses, projects, assessments, etc., are free of cost. This free access is for one week only. So start learning your favorite course with a week so that...
more ››
Unreliable Coupons
Total: 0
Sorry, no coupons found