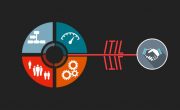 Coupon Details
Introduction to ITIL® 2011
udemy
video tutorials
This Introduction to ITIL® 2011 Course will help you to get the basic idea about the ITIL® 2011 and also to get the practice knowledge of IT service management.
Introduction to ITIL® 2011 Coupon
By the end of this course, you will be able to get the idea about ITIL® 2011 as well as the services provided by this ITIL. The original price of this course is $150. And now you will get this course for $10.