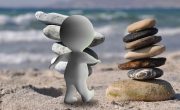 Coupon Details
Free Coupon : EFT for OCD using Gentle Behavior Therapy
udemy
video tutorials
This "EFT for OCD using Gentle Behavior Therapy" Course is useful for those people, who have the problem of compulsive thoughts. In this course, the author included a different variety of situations in order to withstand for your peaceful mind. Obsessive-Compulsive Disorder is increasing day by day with the hectic lifestyle of the people.
EFT for OCD using Gentle Behavior Therapy Course :
The course also included with different stages of gentle behavior therapy in order to decrease the OCD behavior. The sessions consist of Gentle EFT for checking, counting, fear of getting Aids, fear of harming others, pure obsessions, and sexual obsession.
Free Coupon is available for this course :
This course of $30 and now its available for free. It's a limited period offer. So utilize it and have a peaceful mind.