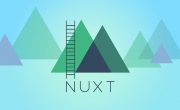 Coupon Details
Nuxt.js - Vue.js on Steroids
Web App Development
udemy
Self Paced Video Tutorials
From this course, you will learn to Build highly engaging Vue JS apps with Nuxt.js. Nuxt adds easy server-side-rendering and a folder-based config approach.
Nuxt.js – Vue.js on Steroids Coupon
You will get 93% Off on this nuxt.js course from  Academind by Maximilian Schwarzmüller, Maximilian Schwarzmüller

Who is this Course For
Basic understanding of Vuejs is required for this course.