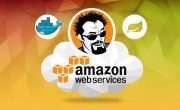 Coupon Details
Spring Core DevOps on AWS
udemy
video tutorials
This Spring Core DevOps on AWS Course will teach you how to create a server with the help of AWS using Spring Applications in DevOps.
Spring Core DevOps on AWS Coupon
By the end of this course, you will be expert in deploying the Spring applications as well as can easily configure different settings using Spring Applications on AWS.
This course is available for $10. The original price of this course is $100. You will get a discount of 90% for this AWS course.
Summary of this Course Includes :
Introducing MySQL with Spring Boot.
Configuring Jenkins.
Managed advanced settings using Spring techniques.
Multiple deployments by the help of Spring Applications.