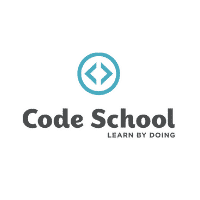 codeschool
Code School teaches web-related courses online. Code school includes coding challenges and screencasts. You will learn by doing along with the course. If you want to become a web expert, Code school is your place. Happy learning. In crunchadeal.com we publish all the new Code school discount coupons, promo codes, and offers.
Get one month access to all the codeschool courses for $9. Codeshool is on of the best online course provider for learning wed programming and designing....
more ››
Learn javascript and javascript frameworks like jquery , angularjs , bacbone.js etc,, from sctarch...
more ››
By subscribing to one year, you will get 40% discount on the codeschool subscription...
more ››
Stop spending expensive programming training and get one year codeschool subscription for your whole team. You get access to all the codeshool courses in the subscription.  For more codeschool offers,...
more ››
Unreliable Coupons
Total: 1
Codeschool coupon 2014: Get 40% discount on all codeschool subscriptions...
more ››